Deal

4 course Michelin lunch

€49.50
Restaurant Sense* is located in a beautiful monumental building in bustling Den Bosch. Patron Cuisinier Dennis Middeldorp, together with his brigade, knows how to prepare sublime dishes from only the very best products that are of local origin as much as possible. Thanks to the daily fresh products and the extensive professional knowledge of the kitchen team, delicious dishes are served with surprising flavor combinations.
The enormous professional knowledge of the wait staff makes the lunch complete by advice on a matching (organic) wine or perhaps a delicious cocktail that ensures an optimal taste experience. Thanks to the modern and vibrant atmosphere inside, every visit feels like coming home and you can fully enjoy the culinary delights that restaurant Sense* has to offer.
Dennis Middeldorp has put together a 4 course michelin lunch especially for DiningCity for only €49.50 p.p.
Note! Limited Availability. Full is full.
Reserve a table
Reserve a table
What 136 people say about Restaurant Sense*
Write a review
---
Geweldig gegeten en zeer goede en vriendelijke bediening.
L. Klasen
at Today
Verified
---
"Heerlijk gegeten"
Heerlijk eten met fantastische service een echt avondje uit.
suzanne
at Yesterday
Verified
---
"Op een mooie donderdagavond "
In de ochtend de vraag, weet jij iets waar we kunnen gaan eten. In de restaurant week lijst had ik al eerder gekeken en met een eerdere ervaring bij Sense, was de vraag snel beantwoord. Een gezellige, sfeervolle en geweldige smaaksensaties volgde die avond. Wat kan eten en drinken een mooie beleving zijn. De bijpassende wijnen waren ook helemaal top.
Sonja Boerman
at Yesterday
Verified
---
Aperitief zou inbegrepen zijn maar wij betaalden voor een zeer waterige Aperol € 10,50.
Drank was sowieso erg duur.
M.
at 21 September 2020
Verified
---
"Verwennerij"
Na onze lunch zeiden we tegen elkaar: ' dit moeten we in de week doen'. Heerlijk gegeten, alles prachtig opgemaakt en echt een fantastische en super vriendelijke bediening. Wat een verwennerij!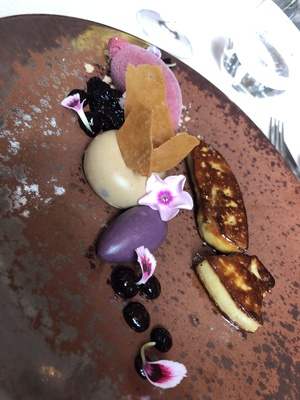 Elles
at 21 September 2020
Verified
Jeroen Boschplein 6 5211 ML 's-Hertogenbosch
About Restaurant Sense*
Sense, located on the historic Jeroen Boschplein in Den Bosch next to the Jheronimus Bosch Art Center, is loungy and modern and a relaxed place to enjoy the delights of Dennis Middeldorp. From the colorful modern interior to the unrivaled cheese wagon and the beautiful wines selected by sommelier Sven Heijkoop. Dennis Middeldorp cooks pure, creative and refined with only the very best products. The Sense menu has been using the Dutch Cuisine philosophy for years, in which vegetables and seasons play the leading role. The atmosphere is relaxed, the service no-nonsense and welcoming.
Sense Restaurant was again awarded a star by Michelin in 2019.
Sense sees that as a sign of appreciation, but even a thousand stars do not change our ambitions: loving cooking and paying attention to the guests.
In short, the pure enjoyment of lunch or dinner in the heart of historic s'-Hertogenbosch. You will be welcomed as a guest with pleasure!
Reserve a table
Reserve a table