Deal
In the beautiful restaurant Klein Hartenstein, located in the beautiful Oosterbeek, Michelin star chef Dennis Richter Uitdenbogaardt proudly presents his beautiful menu. He has put together a gastronomic 4 course dinner especially for DiningCity. The flavors are phenomenal and go great together. Together with the nice atmosphere in the historic villa of restaurant Klein Hartenstein, these flavors guarantee an evening of culinary enjoyment.
When will you experience this during an excellent 4 course dinner from the Chef for only € 37.50?
Reserve a table
Reserve a table
What 49 people say about Klein Hartenstein
Write a review
---
4 gangen menu gegeten. Heerlijke gerechten die werden toegelicht aan tafel. We konden lekker buiten zitten en er was goede afstand met de andere tafels wat ook privacy gaf.
Ik vond alleen de wijn en water aan de prijzige kant
Tineke Werkhoven
at 27 July 2020
Verified
---
"Prima dineetje in Klein Hartenstein!"
We hebben een viergangenverrassingsmenu gekozen. Een goede keuze. Elke gang was interessant, lekker en mooi opgemaakt. Met name het toetje, een panna cotta met daaromheen liflafjes in allerlei gradaties van zoet naar zuur vonden we erg geslaagd.
Joos van Vugt
at 05 March 2020
Verified
---
Heerlijk gegeten...slechts 2 tafels bezet...had iets drukker mogen zijn.
Ton Schellekens
at 29 February 2020
Verified
---
Het eten was TOP! We hadden een 4- gangen verrassingsdiner, erg goed. De bediening was goed en vrolijk. De sfeer en uitstraling van het restaurant is rustig met mooie beschilderingen aan de muur van de airborne.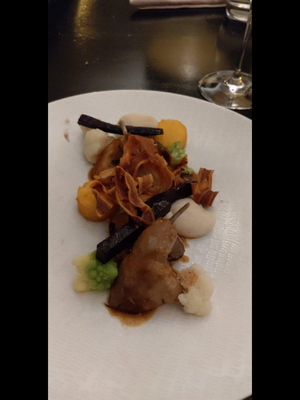 s. bolder
at 26 February 2020
Verified
---
Het verrassingsmenu was een ware belevenis! Heerlijk gegeten!
Rianne Reulink
at 23 February 2020
Verified
Utrechtseweg 226 6862 AZ Oosterbeek
About Klein Hartenstein
Villa Hartenstein is located on the Utrechtseweg in Oosterbeek. Villa Hartenstein has a very rich history. In 1728 Villa Hartenstein started as an inn and in September 1944 was the headquarters of the British airborne troops led by Major General Roy E. Urquhart.
You can dine in an attractive restaurant at Villa Hartenstein. The open atmosphere ensures that you immediately feel at home. The dishes can be labeled as delicious and are served by Michelin star chef Dennis Richter Uitdenbogaardt. Every month Dennis presents a different menu where you can choose from the specialties of Villa Hartenstein.
Let yourself be surprised by the culinary dishes of Villa Hartenstein!
Reserve a table
Reserve a table