What 152 people say about Grand Cafe 1884
9.1
Based on

152

reviews.
92% of the guests recommend this restaurant.
Write a review
---
Heerlijk gegeten. Zeer klantvriendelijk. Echt een aanrader!
Catharina Mocking
at Today
Verified
---
"Heerlijk gegeten!"
Via restaurantweek het 4 gangen diner gegeten. Elke gang was zeer smaakvol en ook de wijn was zeer goed. Bediening ontzettend vriendelijk en behulpzaam. Zeker een aanrader!
M
at 14 September 2021
Verified
---
"Een absolute aanrader"
Verrassende gerechten met een 'Spaanse slag': gazpacho van mango, carpacio van tonijn, onder een cloche gerookt Iberisch varken met kastanjepuree en chocoladebitterballen. Dit alles gepaard met een mooi, Europees wijnarrangement en geserveerd met professionele, semi-nononsense glimlach. Een absolute aanrader tijdens de restaurantweek en ver daarna. Hasta la Vista, we will be back!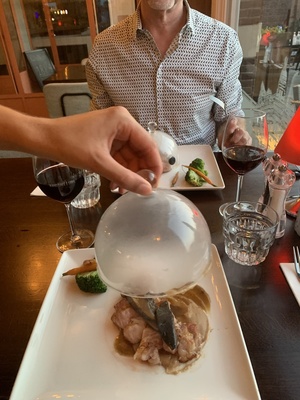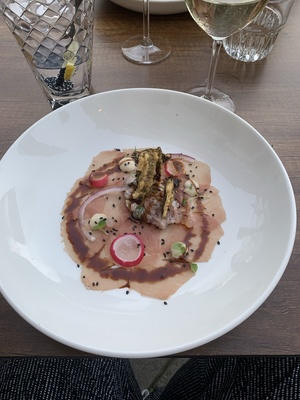 Ken Stevens
at 11 September 2021
Verified
---
Nice!
Julian Peters
at 11 September 2021
Verified
---
Met name de medewerkers zijn vriendelijk en professioneel. Het eten is zeer verrassend met Spaanse invloeden. Heel smaakvol en verzorgd.
Netty Salentijn
at 09 September 2021
Verified
de Ruyterkade 105 1011 AB Amsterdam
About Grand Cafe 1884
Cuisine: French
The modern and atmospheric Grand Café 1884 is located in a beautiful old building on the IJ. The name already speaks for itself, the building dates from 1884.
The kitchen is supplied under the supervision of the Chef. Together with the young and dynamic team, the tastiest and freshest dishes are prepared every day. The focus is on craftsmanship and pure ingredients. It is ensured to the last detail that guests will leave the restaurant with a more than satisfied feeling. A unique experience at its best, where a welcome feeling and quality come to the fore.
Be pampered by the atmospheric Grand Café 1884!
Reserve a table
Reserve a table