Deal

Luxury 6 course Gault&Millau dinner

€57.50
In the middle of beautiful Amstelveen you will find the amazing restaurant Kronenburg. Imagine yourself in an oasis of peace to relax completely. The passionate kitchen team knows how to prepare dishes that will amaze you every time. Only fresh products are used that enable phenomenal flavor combinations.
The friendly and hospitable staff will pamper you and make sure you have everything you need. Relax and enjoy the casual atmosphere, the sublime service and the excellent dishes during an excellent 6 course dinner.
Do you want to experience all this yourself? Do not wait any longer and experience the culinary passion of the professional team during the luxurious 6 course Gault & Millau dinner for only € 57.50!
Reserve a table
Reserve a table
What 53 people say about Restaurant Kronenburg
Write a review
---
"Fantastisch"
Het eten was heel bijzonder, smaakte heerlijk en was prachtig opgemaakt. Prettig dat je ook halve glazen wijn bij elke gang kon krijgen. De bediening was heel vriendelijk en bij elke gang en elke wijn werd uitgebreid verteld wat de ingredienten waren dan wel waar ze vandaan kwamen.
Ankie
at 01 October 2020
Verified
---
Het eten was goed de bediening vriendelijk en in voor een grapje
Sylvia Berkenbosch
at 26 September 2020
Verified
---
Top gegegeten en sfeer was fijn en zeer toegangelijk. Leuke, correcte bediening
Petra
at 26 September 2020
Verified
---
Super lekker 6 gangen diner gehad. Echt een aanrader.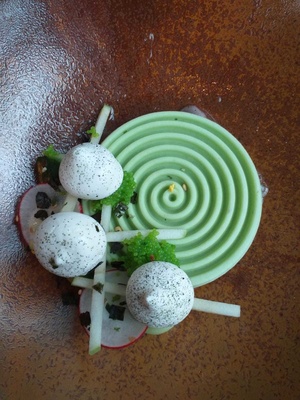 Maaike Copier
at 24 September 2020
Verified
---
"Een weldadig, avondvullend diner"
Bij Kronenburg word je niet opgejaagd en kan je dus uitgebreid genieten van de zeer creatieve gerechten. Ook de bijpassende wijnen zijn bijzonder en worden vakkundig toegelicht. Met een amuse vooraf en schone ramen komt de ster in zicht.
Tim
at 21 September 2020
Verified
Prof. E.M. Meijerslaan 6 1183 AV Amstelveen
About Restaurant Kronenburg
Restaurant Kronenburg is located in the middle of Amstelveen, between the old city center, the Amsterdam forest and the busy Zuidas. A little hidden away you will find yourself in an oasis of peace where we would like to welcome you for business, with your friends or family. We would like to invite you to come and experience the culinary passion of our professional team during a lunch or dinner.
Reserve a table
Reserve a table