Deal

Amazing 5 course dinner

€45.00
Restaurant Zala's is located in beautiful Utrecht under the shadow of the beautiful Dom. Here you can enjoy all the goodies that French cuisine has to offer. They only work with high quality pure and fresh products. With this they not only create the best and tastiest flavor combinations, but they also surprise you with a fantastic creative presentation.
Thanks to the fine hospitality and friendly staff, you immediately feel completely at home. The staff will pamper you and make sure you have everything you need for an evening of relaxation in order to enjoy delicious dishes undisturbed.

Want to experience the unique combination of creativity and hospitality for yourself? Then quickly book the delicious 5 course dinner for only € 45.00!
Reserve a table
Reserve a table
Deal

3 course Chef's dinner

€31.50
During the National Restaurant Week, top restaurants offer a fantastic and also a very affordable surprise menu. An offer you don't want to miss!

Based on reviews restaurant Zala's has been selected as one of the top participating restaurants.

Would you like to enjoy the 3 course Chef's dinner at restaurant Zala's for only €31.50?
Book your table now!
Please note. Seats are limited. Online reservations are mandatory.

Are there any dietary requirements? Please mention this on the reservation form so the restaurant can take this into account.
Reserve a table
Reserve a table
What 103 people say about Zala's
Write a review
---
"Heerlijk gegeten!"
Was top!
Serge
at Yesterday
Verified
---
Een verborgen parel in hartje Utrecht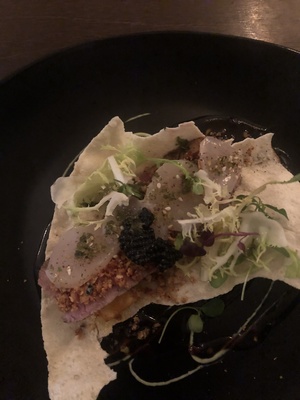 Lenie van Rooijen
at 23 September 2020
Verified
---
"Fantastisch ete"
Heerlijk drie gangen menu gegeten. De boorden waren mooi opgemaakt en de bediening was vriendelijk. Ik kom hier zeker nog een keer!
Stascha De Vita
at 22 September 2020
Verified
---
"Verfijnd eten in een vriendelijke sfeer"
Dank jullie wel!
Irene Groenewegen
at 21 September 2020
Verified
---
"Genieten"
Heerlijk gegeten, goede uitleg van de wijnen
Anika
at 21 September 2020
Verified
About Zala's
Zala's restaurant in Utrecht was previously known as Lokaal Nine. Enjoy the purity and beautiful dishes. The exclusive experience is partly due to the cozy atmosphere. The modern French kitchen will certainly surprise your taste buds. The chef and his team ensure the best taste combinations every time. You will certainly remember the creative and beautiful presentations on your plate. Enjoy a phenomenal evening full of surprises! Come quickly to Zala's in Utrecht.
Reserve a table
Reserve a table