Deal

Amazing 4 course Chef's menu!

€30.00
The beautiful restaurant 't Koetshuys is located in beautiful Groningen. Thanks to the relaxed atmosphere and the friendly staff, every visit feels like coming home. In addition to the fine hospitality, the kitchen staff knows how to serve delicious dishes. Thanks to the fresh ingredients and the perfect flavor combinations, every dish is a culinary surprise.
Especially for DiningCity restaurant 't Koetshuys has put together an amazing 4-course Chef's menu for only €30.00 p.p.! So don't wait any longer and book quickly.
Reserve a table
Reserve a table
Deal

Phenomenal 3-course menu

€26.95
In the quiet Groningen you will find the fantastic restaurant 't Koetshuys. Cosiness and genuine hospitality can be found here every day. The staff ensures that you will have an unforgettable evening with delicious dishes. An evening where you will lack nothing, awaits you at Restaurant 't Koetshuys. The menu is concise and clear so that everything is really tasty. 't Koetshuys works with fresh and high-quality products and you can taste this in the excellent dishes.
Would you like to experience all this yourself? Do not wait any longer and book a phenomenal 3-course menu for only €26.95 p.p.!
Reserve a table
Reserve a table
What 74 people say about 't Koetshuys Restaurant & Bar Groningen
Write a review
---
in 1 woord: uitmuntend
Annet de Vries
at 03 August 2020
Verified
---
"Goddelijk gegeten. Aanrader!"
Leuke bediening in een sfeervolle entourage. Voor alle 3 gangen de specials genomen. Waren alle 3 voortreffelijk. Het huisaperatief als start was ook heerlijk. Enig minpuntje was dat er niet bij de bestelling van de specials niet werd verteld dat er extra kosten aan waren verbonden. Maar de gezellige avond en het eten was het allemaal waard.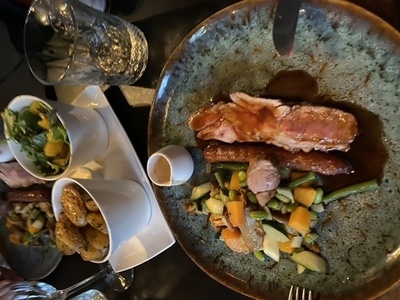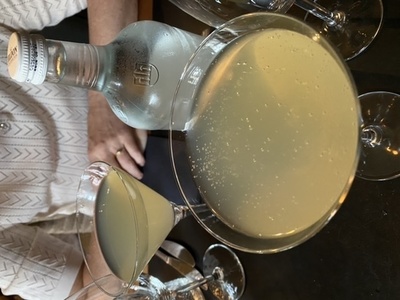 JvdP
at 02 August 2020
Verified
---
Het was KLASSE!!!! Lof voor de kok EN lof voor de bediening!
A. Hamming
at 13 March 2020
Verified
---
plezierig ontvangen en goed geregled dat wij snel eten kregen omdat we op tijd weer ergens anders moesten zijn. Hulde
Philip Everts
at 09 March 2020
Verified
---
Prima eten, goede, prettige bediening, maar veel omgevingslawaai, vermoeiend. We moesten hard praten om elkaar te kunnen verstaan. Heb wel begrepen dat er alles aan gedaan gaat worden om geluidshinder te verminderen. Vandaar iets mindere beoordeling voor sfeer/ context.
Marja Kootte
at 07 March 2020
Verified
Blekerstraat 22 9718 EC Groningen
About 't Koetshuys Restaurant & Bar Groningen
Just outside the bustle of the center is a small catering square hidden in the Blekerstraat. Restaurant 't Koetshuys was taken over by Janieke in the spring of 2018. She had the goal of eating out again fun! Just cozy and genuine hospitality. The service surprises you with homemade drinks but not too much fuss on the menu. A concise and clear menu so that everything is really tasty.
Reserve a table
Reserve a table