Het Prentenkabinet
3 course surprise menu + non-alcoholic cocktail + appetizer + bread & butter

€49.75

€39.75
Reserve a table
Deal

3 course surprise menu + non-alcoholic cocktail + appetizer + bread & butter
Restaurant Het Prentenkabinet is located in the beautiful old Pieterswijk of Leiden. The chefs of het Prentenkabinet are inspired by the French and International cuisine. Only fresh local products of the best quality are used. This is also reflected in the delicious dishes with fantastic flavor combinations.
This centuries-old building has a nice atmosphere, making it one of the most beautiful restaurants in Leiden. Thanks to the friendly staff and the sublime service, you have everything at your disposal for an evening of culinary enjoyment at a high level.
Would you also like to enjoy amazing dishes? Do not wait any longer and book quickly for this fantastic 3-course surprise menu with many extras for only €39.75!
Reserve a table
Reserve a table
What 557 people say about Het Prentenkabinet
Write a review
---
"BUITEN OP DE BOOT"
Heerlijk op de boot gegeten, prima arrangement! Complimenten!!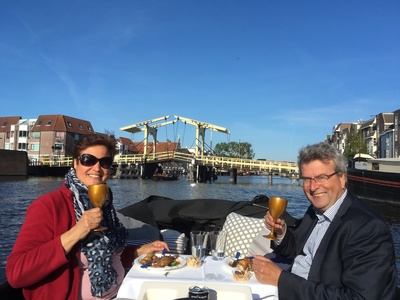 ---
uitstekende gerechten in een sfeervol restaurant met enthousiaste en zeer vriendelijke bediening
ck
at 15 March 2020
Verified
---
"Heerlijk gegeten"
Het eten was top, de bediening plezierig voor een leuke prijs via Diningcity
gast
at 05 March 2020
Verified
---
"Fantastische "
Het verassingen menu was fantastische. Mooie gelegenheid. Medewerkers zijn op de hoogte wat ze reserveren. Echt een aanrader. Wij komen zeker terug met gasten die wij willen verassen
Liesbeth van den Broek
at 02 March 2020
Verified
---
Weer lekker gegeten, de gerechten voorzien van bijpassende wijn, zoals altijd netjes en goed verzorgde opmaak, attente bediening, gewoon lekker en goed zoals verwacht.
Martina Passenier
at 01 March 2020
Verified
Kloksteeg 25 2311 SK Leiden
About Het Prentenkabinet
Restaurant the Prentenkabinet is located in the beautiful old Pieterswijk in Leiden. The old building ensures that the restaurant is certainly one of the most characteristic restaurants in Leiden. The unique character of the restaurant ensures a great experience. The chefs of the Print Room have been inspired by French and international cuisine, where the focus is mainly on the game. At the Prentenkabinet there is a lot of attention for quality and craftsmanship, so cooking is done at a high level. Come quickly to Prentenkabinet and be surprised!
Reserve a table
Reserve a table