What 12 people say about Blauw Utrecht
100% of the guests recommend this restaurant.
Write a review
---
Het was een goed verzorgd driegangenmenu menu. Lekkere gerechten. Het toetje kreeg van ons gezelschap een uitmuntend. Wat lief dat er een kaarsje werd aangestoken omdat ik aangaf dat ik jarig was. Erg attent.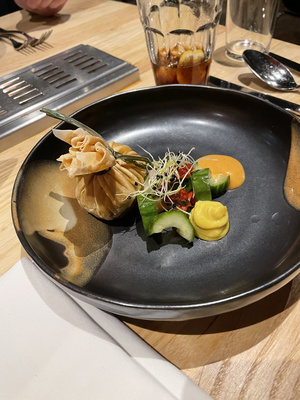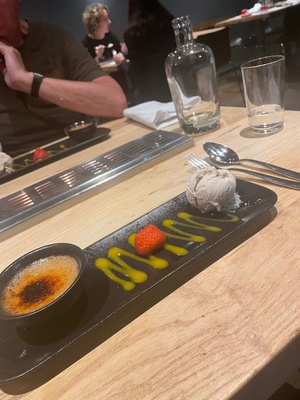 Leens50
at 14 September 2021
Verified
---
Terima kasih banyak chef Hendra. Het eten was voortreffelijk.
Fien Willems
at 12 September 2021
Verified
---
"Lekker"
Heerlijk gegeten. Gerechten zien er ook prachtig uit. vriendelijke bediening
RR
at 11 September 2021
Verified
---
"Heerlijk gegeten"
Het chefs menu was erg goed. Hele leuke en lekkere avond gehad.
Cas
at 10 September 2021
Verified
---
Het was heerlijk eten. Bediening was zeer attent.
Beetje jammer dat het flesje (niet gekoeld) kraanwater verkocht werd voor 3 euro. Dat hebben we dan maar beschouwd als fooi.
Andere puntje was dat ik niet zozeer een voordeel van de AH deal zag. Leken mij gewoon de prijzen van het restaurant. Maar dan maar onder het mom: support the locals.
Eric Paul Verheugen
at 07 September 2021
Verified
Springweg 64 3511 VT Utrecht
About Blauw Utrecht
Cuisine: Indonesian
Restaurant Blauw in Utrecht is a trendy restaurant where you can enjoy the best Indonesian dishes in a modern and warm atmosphere.
The restaurant is known for its excellent rice tables and a variety of Indonesian dishes. At Blauw Utrecht you can also enjoy the different flavors that the Indonesian islands have to offer.
At Blauw Utrecht, you can go for the distinct fish, meat and vegetarian dishes, each with rich Indonesian flavors!
Be surprised by the tasty dishes of Restaurant Blauw in Utrecht!
Reserve a table
Reserve a table