Deal

Amazing 5 course Michelin dinner
"Nature rules, I try to follow her, she determines the quality and I the taste. As a chef, I like to add my personal taste with a preference for fresh tones, acids and spices. They will therefore always be used in my dishes, whether they are recognisable or not. - Jacob Jan Boerma.
Jacob Jan Boerma draws on a blank canvas in The White Room. With respect for the beautiful ingredients of the Netherlands, he follows influences from all over the world in a pure, honest and clean cuisine. Ingredients are given a refined and accessible style in his recipes. Dishes that contain all the sensory possibilities of taste: sour, bitter, fresh, sweet. At The White Room, everyone can have a culinary experience.
The team that carries out his vision in Amsterdam is led by Chef de Cuisine Randy Karman and Maître Bram Hommes.
Randy has put all his creativity into his own hands and loves to surprise you with his signatures!

Especially for Diningcity, The White Room* has put together a 5-course Michelin Culinary dinner for only
€ 62,50
Note: The number of tables is very limited so book in time!
Reserve a table
Reserve a table
What 127 people say about The White Room by Jacob Jan Boerma*
9.3
Based on

127

reviews.
97% of the guests recommend this restaurant.
Write a review
---
Waanzinnig lekker gegeten bij The White Room. Alles was tot in de puntjes verzorgd. Deze mensen verstaan hun vak en dat zie je terug in alles. Gerechten van grote klasse, ontzettend vriendelijke bediening, alles perfect getimed en geregeld. Volledig ontzorgd. En in een prachtig pand. Sterwaardig!
Amy
at 25 July 2021
Verified
---
"Mooie sfeer!"
We hebben lekker gegeten en ik vind dat de chef heeft zijn best gedaan om mijn diëten wensen te vervullen. Maar we hebben meer betalen dan wat dining city heeft aangeboden €89 in plaats van €62,50 dat vinden we niet fijn.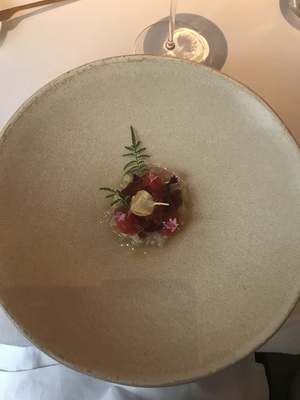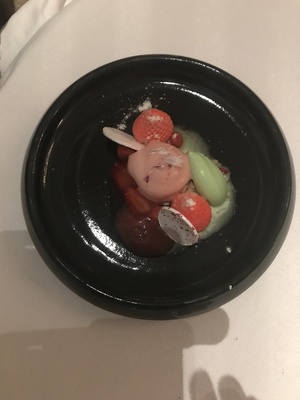 Nicole Figaro
at 25 July 2021
Verified
---
"Het was geweldig! "
Het eten was heerlijk! De locatie was heel erg mooi en het personeel was erg aardig. We hoefde niet lang te wachten maar het ging ook niet te snel.
Kelly
at 22 July 2021
Verified
---
Heerlijk gedineerd in een prachtig pand!
Boudewien Tan
at 21 July 2021
Verified
---
Heerlijk gedineerd met bijzonder smaakvolle gerechten en daarbij passende wijnen, met een leuk en interessant verhaal erbij. Fijne bediening met aandacht voor hun gasten. Kortom heerlijke avond gehad samen met mijn zoon.
Marianne Waaijer-van Roest
at 16 July 2021
Verified
About The White Room by Jacob Jan Boerma*
Cuisine: French, International
The White Room* by Jacob Jan Boerma is the Michelin star fine-dining restaurant of NH Collection Grand Hotel Krasnapolsky. The hotel is located on the Dam with a beautiful view of the Palace in the bustling centre of Amsterdam.
The name The White Room is derived from the historic name 'De Witte Zaal' (The White Room) that was given the space when it opened in 1885. The current restaurant is considered to be the oldest restaurant in Amsterdam where original styles are still preserved. Thanks to the refined and modern styling, history and present are seamlessly connected here.
3* Michelin Chef Jacob Jan Boerma, known from 'De Leest***', is head of the White Room team. Under his signature, you will find the young yet experienced Chef de Cuisine Randy Karman. The beautiful ingredients and the fresh style of Karman ensure a perfect combination with the sour flavours and spices that Boerma is known for.
The White Room* brings an elegant but accessible cuisine that builds on products in their optima forma. Maître Bram Hommes guarantees an extraordinary service in addition to the culinary experience. Sommelier Isabel van Bueren informs you with passion about the wine offerings of The White Room.
The restaurant was awarded 1 Michelin star in 2017 and has 15 Gault&Millau points.
Reserve a table
Reserve a table