Deal

Great French 4-course dinner
The phenomenal restaurant Le Port is located in the pleasant Barendrecht. Here they cook according to the classic French cuisine. Delicious dishes with phenomenal flavors are put on the table here and again. Fresh and high-quality ingredients are used. Thanks to host Arjan Lagerwerf, the evening is complete and you can enjoy all the goodies that Le Port restaurant has to offer.
With whom do you come to enjoy a great French 5-course dinner for only €38.00?
Due to the conditions of the RIVM, there is only limited availability! Reserve this attractive deal quickly!
Reserve a table
Reserve a table
What 64 people say about Restaurant Le Port
Write a review
---
"Een topavond!"
We hadden het vijfgangenmenu. Prachtig opgemaakte borden, veelkleurige composities en goed harmoniërende smaken. Een heerlijk glas Cabernet Sauvignon erbij. Een bakje fantastisch gebakken huisgemaakte frites bij het hoofdgerecht. Het was perfect.
Peter van Esch
at Yesterday
Verified
---
Heerlijk chique gegeten, ieder gerecht was een feest. Echt een aanrader!!
Martin Nijman
at 20 July 2020
Verified
---
"Verrassend goed!"
Bij een bezoek aan Ridderkerk hadden we 'in the blind' een restaurant uitgezocht. Le Port in Barendrecht. we zijn met ons neus in de boter gevallen en zijn verrast met prachtige gerechten. Het was een culinair feestje waar we nog van nagenieten.
Fam. Sanders en Peek
at 18 June 2020
---
Good food, good wine list, good interior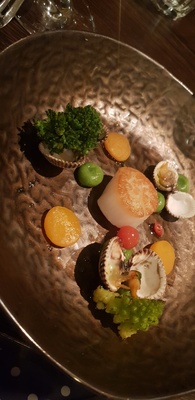 Christina Rossi
at 16 March 2020
Verified
---
"Feestje"
Was allemaal erg lekker.En je kon ook gemakkelijk wisselen van gerecht.
Carla Reniers
at 13 March 2020
Verified
Havenhoofd 1 2993 EK Barendrecht
About Restaurant Le Port
Restaurant Le Port is located in Barendrecht at the Havenhoofd. French cuisine is combined with sustainable and organic products. At Le Port you can dine wonderfully and enjoy the tastiest fish, meat and vegetarian dishes. The excellent wine list ensures that a suitable glass of wine is available for every dish. In the exciting dishes you will find flavors from all over the world. Come and enjoy a tasteful evening at Le Port restaurant.
Reserve a table
Reserve a table