Deal

Amazing 5 course menu from the chef with a Caribbean twist!
Restaurant Just, located in cozy Rotterdam, has been chosen as one of the stars of the Restaurant Week 2019 in the Rotterdam region based on reviews. And we have good news! Restaurant Just would like to celebrate this with us and therefore serve a great 5 course surprise menu.
At restaurant Just you can enjoy every visit culinary. Thanks to the creativity of the chef, you will be surprised with every dish by the unique but sublime flavor combinations. Every dish is special because of fresh ingredients, which come from Dutch soil to the Caribbean seas. Thanks to the great atmosphere and great hospitality, every visit guarantees a phenomenal evening.
Take your chance now and quickly reserve this amazing 5 course dinner for only €37.50!
Note, the number of tables is limited. So make your reservations on time.
Reserve a table
Reserve a table
Deal

Amazing 7 course signature dish with a Caribbean twist!
Enjoy in the heart of Rotterdam by restaurant Just! Let yourself be taken on a culinary journey and stimulate your senses with the tastiest flavors. Chef Justin Niessen introduces you to his own style. Everything comes from the Caribbean seas to the Dutch soil. The kitchen team cooks with passion and gives free rein to creativity so that the most delicious and surprising flavor combinations are conjured on the plate.
The friendly staff ensures that you lack nothing and thanks to the nice casual atmosphere, the trip is completed so that you never want to return!
Do you want to enjoy these taste sensations? Do not wait any longer and reserve this amazing 7 course Just signature menu now for just € 51.50!
Reserve a table
Reserve a table
Deal

Amazing 3 course menu from the chef + sparkling aperitif
Because restaurant Just is so incredibly popular, they are now also open for lunch! Chef Justin cooks with passion and convincing flavors and his Caribbean roots really come into their own in his delicious dishes. To celebrate that Just is also open for lunch, we have a special deal for you!
For only €23.50 you can enjoy an excellent 3 course lunch including a sparkling aperitif. This way you can get to know the kitchen, the sublime service and the nice atmosphere, so you immediately know what culinary experience is waiting for you when you dine here!
Take your chance now and quickly reserve a coveted spot for a fantastic 3 course surprise lunch with sparkling aperitif for only €23.50!
Reserve a table
Reserve a table
What 75 people say about Just
Write a review
---
Altijd uitstekend! Veel variatie bij de verschillende gangen (tonijn, eend, kalf) en de ene lekkerder dan de andere. Vrienden meegenomen en die waren net zo blij dan wij.
C. L.
at 07 August 2020
Verified
---
"Voor herhaling vatbaar!"
Het eten was zeer smaakvol, mooi opgemaakt! Bediening was vriendelijk en goed.
Wij gaan graag nog een keer bij Just eten!
Wilma van der Linde
at 29 July 2020
Verified
---
"Boven verwachting"
Goed eten met goede wijn!
Casper Lansbergen
at 26 July 2020
Verified
---
"Heerlijk gegeten"
heerlijk gegeten bij "Just" .
Voor als je eens wat anders wil. Laat je verrassen en geniet.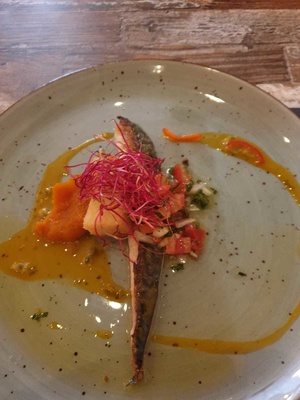 Hans Uijtendaal
at 24 July 2020
Verified
---
Het eten was lekker en verrassend, maar niet voor grote eters. Er was een grote groep aanwezig verdeeld over twee tafels. Hierdoor konden wij elkaar bijna niet verstaan en moesten wij hard tegen elkaar praten. Dit vonden wij erg storend. De ruimte is hier niet geschikt voor. Verder prima.
Eugènie Cossee
at 20 July 2020
Verified
Mauritsweg 53 B 3012 JX Rotterdam
About Just
This beautiful and innovative business is located in the center of Rotterdam where you can explore great and exotic flavors! You can eat good food, taste delicious wines and this all for a low price.
The ingredients used in the dishes come from Caribbean seas to Dutch soil; they are very diverse. At Just they have an open menu where the creativity of the chefs comes first. They keep the choice simple: fish, meat and vegetarian.
Try it for yourself at Just in Rotterdam!
Reserve a table
Reserve a table