Lucky Garden Amsterdam
100%
What 10 people say about Lucky Garden Amsterdam
100% of the guests recommend this restaurant.
Write a review
---
Heerlijk gegeten,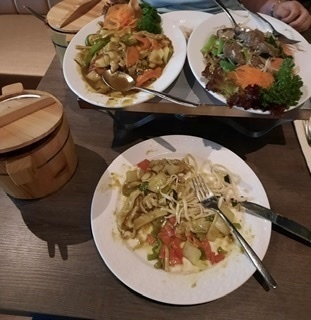 Miranda Van der Horst
at 08 July 2021
Verified
---
"Pekingeend"
Echt een super maaltijd gegeten, de smaak is heerlijk.
Erik van Hulst
at 22 August 2020
Verified
---
"Verrassend leuk"
Het eten is erg lekker. Ze geven je de tijd en serveren op een leuke manier. De locatie is een stukje minder.
Raymond Van Ierland
at 18 August 2020
Verified
---
Kom er al jaren Is het beste restaurant op dit gebied Echt grote klasse
Luzente
at 23 February 2020
Verified
---
"Geweldig restaurant"
Ik nam mijn moeder mee naar dit resraurant en wij vonden het allebei heel mooi daar. Het eten was ook heerlijk en lekker veel. Wij zelf konden uiteindelijk niet alles in een keer op, dus hebben we het meegenomen naar huis. Echt een aanrader!!
Izabella de Souza Monteiro
at 18 February 2020
Verified
Snellerwaardgracht 7 1107 EJ Amsterdam
About Lucky Garden Amsterdam
Cuisine: Asian, Chinese
The Lucky Garden specialty restaurant in Amsterdam has been a household name in the area of high-quality Eastern food for years.
They present an exquisite choice of Asian food cultures. In the atmospheric ambiance you really experience the sophistication of the refined taste nuances that the masters of Oriental cookery give their compositions, without ignoring the visual aspect of the dishes.
The atmospheric restaurant invites to pleasant dining. An ideal meeting place for lunch or dinner in a comfortable atmosphere, both private and business. Because of the large capacity, parking facilities and various facilities that they offer, it is extremely suitable for company parties, presentations, receptions and anniversaries.
Welcome to the fascinating culinary world of the Middle East.
Reserve a table
Reserve a table