What 315 people say about Nomads
9.3
Based on

315

reviews.
97% of the guests recommend this restaurant.
Write a review
---
"This is special"
Interesting concept of how to choose your menu. Colorful and very tasty food. The staff is very kind and know all about the food and pairing wines. We gladly recommend and will surely return.
Menno Stout
at 14 October 2021
Verified
---
"Excellent service and great food and wine"
The food was fantastic but the service was better. Friendly, helpful staff knowledgeable about the wines and food. We enjoyed every bite and had a great time. Highly recommended.
Elmarie
at 12 October 2021
Verified
---
"Hemels!"
We komen er vaak en ook deze keer was het lekker - verrassend en heel smaakvol!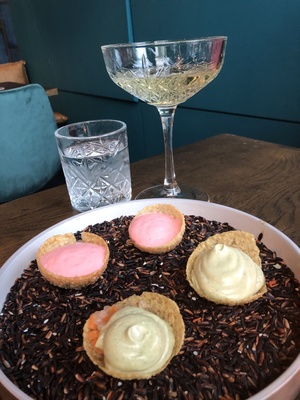 Claudia Grube
at 11 October 2021
Verified
---
"Heerlijk genieten"
Super gastvrije bediening en heerlijk Vietnamees eten! Kom graag terug.
Eugene
at 10 October 2021
Verified
---
Echt heerlijk gegeten en hele goede service. Alleen de akoestiek is niet zo goed en met de luide muziek konden wij met 4 personen geen goed gesprek voeten.
Apas Zwart
at 10 October 2021
Verified
Oranje-Vrijstaatkade 55 1093 KS Amsterdam
About Nomads
Cuisine: Modern, International
In for a real adventure? Join NOMADS on a culinary journey around the world!
As true nomads, NOMADS travels around the world in search of undiscovered flavors, exciting products and authentic food experiences. They travel to two different countries every year. They are inspired by this, follow cooking workshops and fill their backpacks with local products on the market.
For 6 to 9 months, NOMADS presents the best they have discovered during their journey. Every dish has its own story and its own origins and the staff is only too happy to share this with you. This way they take you on a journey and let you get acquainted with all the special things that their destinations have to offer.
Reserve a table
Reserve a table