Deal
Deal

A delightful 6 course dinner!
Deal

Delicious 4-course dinner!
What 43 people say about Fidèle
100% of the guests recommend this restaurant.
Write a review
---
Wij hebben genoten van het 9 gangen diner. Verrassend was de kennis en uitleg van de gastvrouw gepassioneerd en vol liefde vertelde zij over zowel de gerechten als de bijpassende wijnen. Een aanrader om te bezoeken, sfeervol mooi klassiek ogend restaurant.
nicole van velzen
at 21 September 2020
Verified
---
"Verrassend goed, mooi ruim opgezet, leuke bediening."
Het opvolgen van de Koriander is moeilijk, maar de nieuwe eigenaren zijn zeker een nieuwe ster waard, heerlijk 6 gangen-diner met voortreffelijke amuses.
Zeer aan te bevelen, iedereen werkt met grote passie voor de klant, SUPER !
Frans
at 14 September 2020
Verified
---
"Een smaakvolle avond"
We hebben erg genoten van de smaakvolle en prachtige gerechten en de gastvrije en rustige ambiance bij Fidele.
Sept. 2020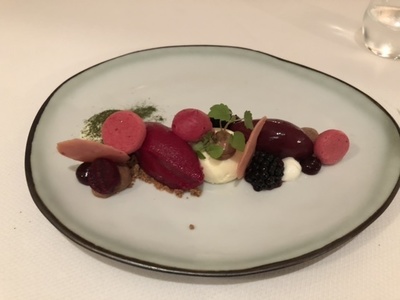 Hans
at 13 September 2020
Verified
---
Heerlijk gegeten en gedronken. Aardige gastvrouwen met verstand van zaken, een fijne sfeer. Een aanbeveling is om een groot boeket verse bloemen op de zuil midden in de zaak te zetten.
Jannie en Roelof.
at 11 September 2020
Verified
---
Het is een heel gezellig restaurant. Heel leuk dat er met 3 amuses begonnen wordt voordat het menu geserveerd wordt. Dit alles in een prima tijd tussen de gangen maakt het een hele fijne avond uit.
thea van der Kaaij
at 09 September 2020
Verified
Burgemeester Wuiteweg 18 9203 KK Drachten
About Fidèle
Cuisine: French, Classic, Modern
You can enjoy at restaurant Fidèle in Drachten. Fidèle stands for loyalty, and they like to show that to the guests. Chef Gerry Trouw works with seasonal and regional ingredients in the kitchen. The dishes he creates are modern with an origin from the classic French cuisine. Characteristic of his cooking style are the delicious dishes and taste sensations with support of fresh acids.
Reserve a table
Reserve a table