by NOA @ Mövenpick Hotel The Hague
97%
What 33 people say about by NOA @ Mövenpick Hotel The Hague
Write a review
---
Heerlijk gegeten, een uitgebreide wijn selectie en fijne bediening!
Nikoo
at 03 October 2020
Verified
---
Leuke avond gehad, met hele mooie gerechten... complimenten aan de kok en bediening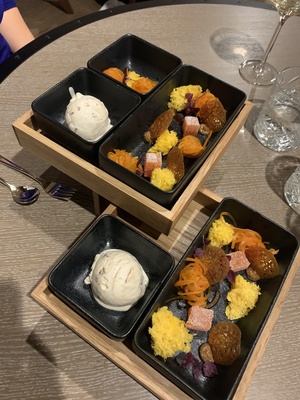 Marcel
at 02 October 2020
---
"Leuke avond!"
Goede prijs kwaliteit verhouding en heel veel complimenten voor de bediening. Was een leuke avond met lekker eten!
Irene
at 29 September 2020
Verified
---
Wat een geweldige avond hebben wij gehad, met heerlijke, mooi uitziende gerechten, attent, sympathiek en kundig personeel. Mijn vrouw meegenomen om ons jubileum bij Noa te vieren en ze hebben er een feestje van gemaakt. Enige minpuntje is de akoestiek. Redelijk veel geroezemoes, maar wel prettige livemuziek. Soort nederlandse Norah Jones.
Robert Niggebrugge
at 28 September 2020
Verified
---
"Heerlijk geluncht"
We kregen een verrassend en lekker 2-gangen lunchmenu geserveerd. De bediening was zeer vriendelijk.
Ann
at 28 September 2020
Verified
Paleisstraat 5 2514JA The Hague
About by NOA @ Mövenpick Hotel The Hague
Restaurant by Noa is located in the Mövenpick Hotel, a stone's throw from the Noordeinde Palace in the centre of The Hague. The Mövenpick Hotel The Hague is a stylish boutique hotel with 72 rooms that perfectly suits the preferences of modern world travellers. The ideal location for business trips or to relax and explore the city's shops and museums.
Enjoy a relaxing evening full of creative cuisine prepared by the Chef, Bas Niehof. Quality dishes based on traditional international cuisine with a Dutch touch.
Let yourself be pampered with beautiful wines. They can tell you all about it. There is in fact a collection of 60 wonderful wines to choose from, served by the glass. So you don't have to take a whole bottle right away. How nice is that?
The whole team makes sure that you will be pampered. They understand very well that you can only spend your time once and will guarantee a delicious culinary evening.
Reserve a table
Reserve a table